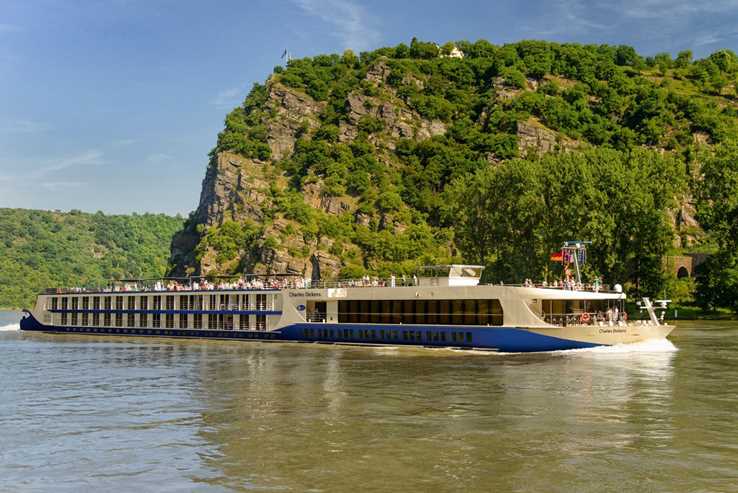 As the latest addition to the Riviera Travel fleet, launched in July 2015, MS Charles Dickens exudes 5* luxury from its state of the art construction. It joins its sister ships, the MS William Shakespeare and MS Lord Byron, on voyages that take in some of Europe's most iconic waterways. 
Across its four decks, guests will find innovative features and ground-breaking technology that contribute to its smooth, comfortable and safe travel. While the interior décor, including marble features, sustainably sourced tropical wood and an atrium that lets in swathes of natural light, reflects the quality and sophistication of the ship's design.  
Passengers
Matching its sister ships, the maximum capacity of the MS Charles Dickens is 140 passengers, which helps to ensure guests receive the best quality service (largely due to the 4:1 passenger to crew ratio) while also allowing them to mingle and socialise with fellow travellers. The relatively small capacity, compared with other river cruise ships means that the dining areas are uncrowded too, which helps to maintain a pleasant and intimate feel. 
As a British river cruise operator, Riviera Travel passengers are predominantly from the UK and enjoy a variety of interests, including culture and history – two of the reasons why most choose a river cruise with Riviera Travel. The cruises tend to appeal to a more mature traveller, and many passengers are loyal customers who return to the line, again and again. 
The onboard Cruise Director is dedicated to helping passengers with advice, help and information whenever needed. 
Dining 
The main restaurant is located on the middle deck, where crisp white linens cover tables and polished silverware and sparkling glassware are laid out perfectly. This is where the main breakfast, lunch and dinner services take place – and whether it's the buffet service during breakfast and lunch, or the sit-down menu with silver service for dinner, guests can be assured of top quality fare, each and every mealtime. For breakfast, guests can choose from a range of continental and traditional breakfast options, with omelettes and eggs prepared to order. The lunchtime buffet consists of a range of hot, cold and light lunch options to suit every appetite. Open-seating is available at every service, contributing to the informal and relaxed atmosphere that ensures every guest feels welcome. The restaurant also benefits from the innovative sound-absorbent paint on its ceiling, which helps to reduce noise levels during mealtimes, as well as tinted panoramic windows to reduce glare on bright days. 
At the rear of the ship there's a bar that hosts the 'Chef's Restaurant' dining venue every evening. Here, 24 diners can enjoy an indulgent and exclusive dinner, with signature dishes prepared by the chef onboard. There is no additional charge for this experience, but reservations are a must if you wish to guarantee your seat!  
Thanks to the 24hour self-serve stations, tea and coffee are available, free of charge, around the clock. Drinks packages are available to purchase.
Entertainment 
At the front of the ship on the upper deck, there is a lounge and bar area that offers plenty of comfortable seating for guests to chat and relax onboard. Observation windows on both sides of the ship provide views of sensational landscapes, while a panoramic window at the front of the area offers uninterrupted views of what lies ahead. The bar is well stocked with premium spirits and fine wines too – perfect for an evening tipple after dinner! The resident pianist provides smooth sounds that contribute to the ambience. 
There is also a bar at the aft of the ship on the upper deck, should you wish to relax of an evening somewhere a little smaller, quieter and more intimate. 
Activities 
The Sun Deck is one of the vessel's crowning features, where guests can chat with crew at the Bridge, or grab one of the comfortable chairs or sunloungers for a relaxing hour or two. Watch the ever-changing dramatic landscapes from the comfort of café style seating, or enjoy one of the deck games available, such as shuffleboard, giant chess or use of the putting green. The whirlpool is also extremely inviting, especially on a warm sunny day! 
There is a well-stocked library area onboard, should guests exhaust their own collection of books and need another page-turner to occupy them. 
Shore excursions include guided walking tours through old towns and charming regions, as well as visits to sites that offer superb architectural, historical and cultural elements to satisfy a guest's desire to explore and enrich. 
Accommodation 
Most of the standard cabins onboard offer 161 sq. ft. of space, while their lower deck counterparts are slightly smaller at 151 sq. ft.  Those found on the middle and upper decks benefit from French balconies, with sliding windows that slide back over the outside of the ship, allowing guests to appreciate unhindered views of the scenery. Lower deck cabins have fixed windows, and ample amenities to ensure a comfortable sailing. There are also four deluxe suites on the upper deck, which are incredibly spacious at 245 sq. ft. and boast outdoor private balconies with seating areas. 
Regardless of stateroom category, all guests can enjoy a range of excellent amenities, including spacious bathrooms, air con and climate control, flat-screen TV with satellite channels, telephone, personal safe and hairdryer. Beds are hotel-style, rather than berth or bunk, meaning a well-earned rest every night. There is also a sole occupancy cabin available, which allows solo travellers to enjoy a river cruise at no extra supplement. 
Spa/Wellbeing 
There is a small, well-appointed fitness area located on the lower deck, which is a perfect spot for active sorts who love a workout as part of their daily routine. Alternatively, the onboard spa that features a sauna and steam room will help guests to feel reinvigorated and relaxed. 
Meanwhile, guests can find a whirlpool on the Sun Deck, and the onboard hairdressing salon will provide well-deserved haircare and beauty sessions at a small extra charge. 
Itineraries
The range of itineraries tends to focus on the waterways that flow through the heart of Europe, including the Rhine, Danube and Moselle. From cruises through Europe to Budapest and Bratislava, to Blue Danube voyages and adventures in Switzerland, including optional Glacier Express extensions, travellers can enjoy a multitude of options to suit every wish list. 
Itineraries tend to be between eight and 15 days, depending on itineraries and port calls