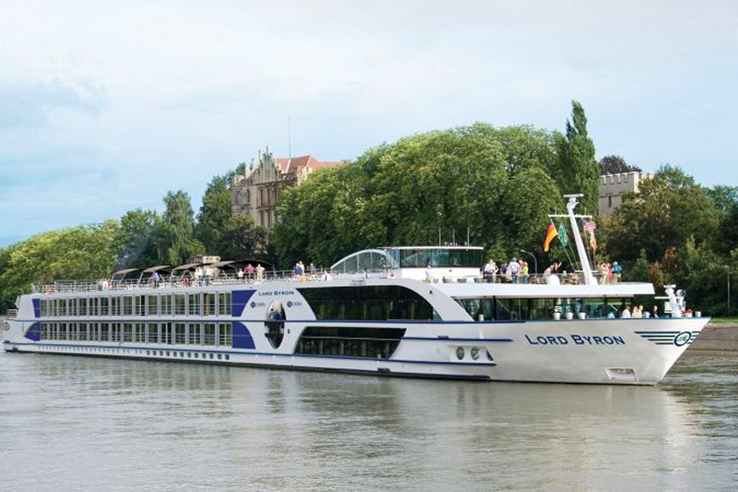 A 5* star addition to the Riviera Travel river cruise fleet, the MS Lord Byron was launched in 2013, and provides a number of European itineraries to choose from. The MS Lord Byron benefits from the high standards and specifications that Riviera Travel offers its guests, and from the moment you step onto the lobby's marble floor, its stylish sophistication is obvious. 
Public areas and accommodation options span four decks, including a Sun Deck which provides breathtaking panoramic views of the surrounding landscapes. The Diamond and Ruby Decks are connected with a stylish glass elevator and wrought-iron staircase, while the Emerald Deck and Sun Deck can be accessed via stairs. With wonderful views, fine dining and plenty of activities included (both onboard and onshore), Riviera Travel continues to offer one of the finest ships on Europe's rivers with the MS Lord Byron. 
Passengers
There is a 140 passenger capacity onboard, meaning that guests can enjoy an intimate, relaxed atmosphere while also benefitting from ample opportunities to meet fellow travellers. The staff to passenger ratio on board is 4.1, which ensures service is attentive and personalised. 
Riviera Travel is extremely popular with river cruise fans, with plenty of returning guests. Those onboard the MS Lord Byron tend to be of a similar demographic to the line's other ships, and are predominantly from the UK. Passengers usually have a keen interest in culture and history, and make the most of the various activities and excursions available.
Dining 
Dining onboard the MS Lord Byron is a casual and relaxed experience, but that doesn't mean that expense has been spared. Guests can enjoy crisp white table linens and polished cutlery and glassware at every meal, but an open-seating plan provides a more laid-back approach to the breakfast, lunch and dinner service. 
The main restaurant can be found on the Ruby Deck, where passengers can enjoy help-yourself buffet service for breakfast and lunch, and a sit-down four-course menu service for dinner. The breakfast and lunchtime buffet stations provide a wealth of sumptuous and filling options, while pastries are served on the Sun Deck if you're looking for something lighter to start the day. 
For dinner, guests can enjoy an array of menu options across four courses. Alternatively, passengers can opt for the indulgent 'Chef's Restaurant' experience. This can be found in the bar, which is transformed into an intimate dining area for 24 guests, every evening. 
Tea and coffee are readily available throughout the day from the 24hour stations, as well as opportunities to enjoy afternoon tea and chef's patisseries. The Lido Bar and Restaurant, on the Diamond Deck, is also available if you're looking for a change of dining venue at any point, but reservations are recommended. Barbecues are occasionally held on the Sun Deck, depending on the weather. 
Entertainment
As with most other river cruise vessels, entertainment onboard the MS Lord Byron is understated. Guests onboard don't tend to be raucous, and they're not up all hours of the night partying. However, there is a well-planned entertainment program onboard which ensures guests are kept amused before retiring to their stateroom. There's an onboard pianist playing soothing sounds after dinner, and there's also a small dancefloor, if you fancy a boogie.
Activities 
There are plenty of comfortable chairs and loungers available on the Sun Deck, where you could easily while away an hour (or several) with a good book and the passing views. It also has a small splash pool, putting green, shuffleboard area and giant chess board. 
The main Panorama Lounge and Bar is a perfect spot to sit back on a cosy settee and enjoy a drink, while the Lido Bar at the rear of the ship is quieter if you'd prefer. 
Of course, one of the main reasons for a river cruise is to dive into the shore excursions, and much of your day will be taken up with the various onshore guided tours and activities that come as part of your itinerary package. 
Accommodation 
Accommodation onboard varies from standard cabins, found on the Emerald and Ruby Decks, to standard and deluxe suites, located on all three decks (Emerald, Ruby and Diamond). Standard Cabins benefit from amenities that match those of top-class hotels on land, and ensure your voyage is a comfortable one. Suites are more spacious than cabins – at 199 sq. ft. – with extra space dedicated to the living area, while the Deluxe Suites found on the Diamond Deck are even larger at 242 sq. ft.! 
All staterooms are air-conditioned. Staterooms on the Diamond and Ruby decks also benefit from French Balconies, which allow guests to breathe in the fresh river air and admire the stunning views from the comfort of their room.  161 sq. ft. Emerald deck standard cabins have picture windows. Bathrooms are finished to a high standard, with bath and shower facilities. 
Other amenities available across the various categories include tea/coffee making facilities, telephone, hairdryer, safe, mini-bar, individual climate control, TV with satellite channels and comfortable hotel-style bed. 
Spa/Wellbeing 
There is a well-equipped fitness centre onboard, which is perfect for active sorts. If you're looking for a chance to relax and rejuvenate, the wellness area includes a sauna and steam room, and can be found on the Emerald Deck. There is also a hairdresser onboard if you'd like to treat yourself to a new style. 
Itineraries
The MS Lord Byron has several itineraries to choose from, which range between five and 14 days in duration. Choose to embark on a Rhine cruise to Switzerland for a week, or extend it by a few days with an optional Glacial Express experience. Alternatively, focus your attention on a Blue Danube river cruise, taking in the sights of Vienna, Budapest and Bratislava. There are other itineraries on offer too, using several of Europe's majestic waterways as their guide, including the Rhine, Moselle, Main and Danube.